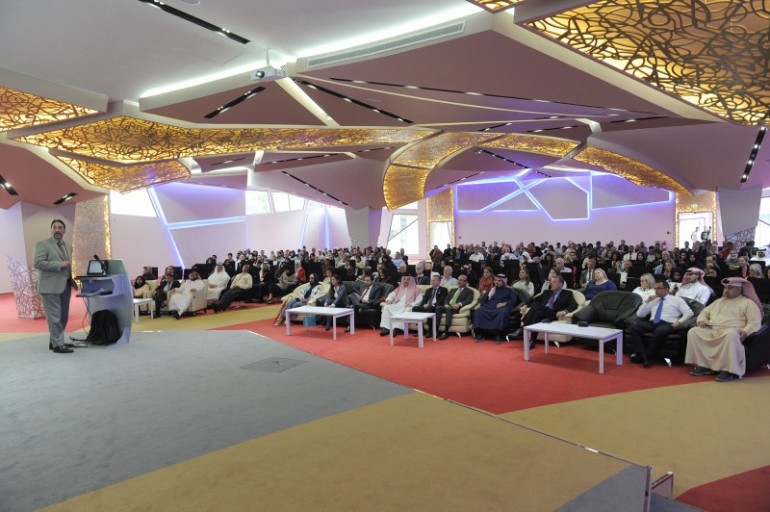 Held under the patronage of Acting CEO Dr. Mohamed Al Aseeri, Bahrain Polytechnic held its annual all staff gathering on February 14, 2017 at the Polytechnic's Bahrain Hall, where all employees were addressed on the latest updates from all departments and directorates in preparation for the start of the second semester.
The gathering was opened by Dr. Hasan Almulla, Deputy CEO of Academic Services, on behalf of the executive management. He welcomed the attendees, wishing them a successful academic year ahead. Additionally, he expressed his appreciation to the tutors which recently left the Polytechnic for all their hard work and efforts.
Dr. Almulla stressed that the achievements of the Polytechnic all contribute to its Strategic Plan 2015-2019, the government action plan 2015-2018, and seeks to be an active contributor to achieve the Bahrain 2030 Vision.
Executives, directors, deans, and managers from various departments within the Polytechnic presented their key achievements and latest updates during the last semester, including their future plans for the coming period and its accordance with the goals of the Polytechnic's strategic plan.
Dr. Al Aseeri welcomed the members of the academic and administrative bodies, and conveyed the greetings of the Board of Trustees to them. He stressed that the reason of conducting this gathering is for employees to be informed of all matters relating to the Polytechnic, including plans and projects, in order to be more connected and productive. In conclusion, Dr. Al Aseeri wished both academic and administrative bodies a successful year.
Posted on 16 February, 2017 in News