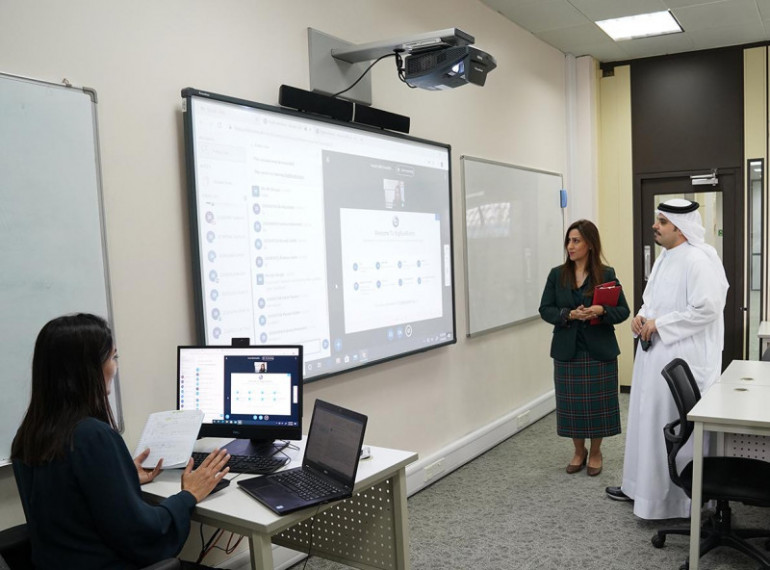 Since March, Bahrain Polytechnic activated its virtual learning due to the COVID-19 pandemic, and the Polytechnic has given tremendous efforts to provide an integrated virtual learning experience to engage learners and provide high quality learning virtually.
As a result, Bahrain Polytechnic has joined Quality Matters (QM), the international leader for quality assurance in online and innovative digital teaching and learning environments, in an aim to enhance its virtual learning environment for its students. Polytechnic is now the first QM member in Bahrain, part of a community of more than 1,300 institutions and organizations in 23 countries that put learners first.
Attaining a membership with Quality Matters provides Bahrain Polytechnic with access to a comprehensive, research-supported quality assurance process to design and develop accessible and engaging online courses. By using QM's tools and resources, this allows Bahrain Polytechnic to evaluate the course and program design to ensure that the needs of today's online learners are being met. Additionally, faculty and staff are provided with a pathway to develop and strengthen their online design and delivery skills using QM's professional development opportunities.
On this occasion, Sh. Ali bin Abdulrahman Al Khalifa, Deputy CEO of Resources and Information Affairs, stated: "As digital transformation is the global trend, we want to align our strategy to meet this trend. We have already implemented several digital initiatives within our operations, and as we move forward, we want to keep enhancing our virtual learning experience for our students. By being a member of QM, we want to be an exemplar of online and digital education in higher education. We have already started training our staff, notably in the quality assurance team, to ensure that they are up to date with QM's tools and resources."
"Bahrain Polytechnic are aiming to contribute to the global online community in digital education, and by being a member with QM, this is great step towards it." concluded Sh. Ali Al Khalifa.
Dr. Yaping Gao, QM's Senior Academic Director: Member Services & Partnerships, stated: "The exponential growth of online education and digital learning, hastened by the COVID pandemic, has led to a heightened focus on quality, with more and more international institutions embracing proven, effective ways to provide quality online education and support student learning."
"We are thrilled to welcome Bahrain Polytechnic to the ever-expanding QM community as the very first member institution in Bahrain. It takes leadership, vision, strategic planning, commitment, dedication, in addition to time and resources, to create a culture of quality focused squarely on student learning and meeting the evolving needs of a diverse student population. We want to commend Bahrain Polytechnic on establishing its leadership in quality assurance by embarking on and implementing such as a significant and worthy initiative institution wide."
As a start, two staff members from Bahrain Polytechnic have completed the 'Applying the Quality Matters Rubric' course, with future plans to enroll more staff into the program. This is QM's flagship course on the QM rubric, and its used in reviewing the design of online and blended courses.
Dr. Reem Albuainain, the Polytechnic's Deputy CEO of Academic Affairs, stated: "This agreement was put in place in order for Bahrain Polytechnic to utilize QM's resources to implement robust quality processes as per international practice. Signing this agreement was of vital importance as it enhances the quality of our online learning, which will result in high quality graduates equipped with the 21st century skills."
It is worth mentioning that this membership agreement was signed by Bahrain Polytechnic CEO Dr. Jeff Zabudsky and Dr. Yaping Gao, QM's Senior Academic Director: Member Services & Partnerships, on 8th June 2020.
This membership with QM strengthens Bahrain Polytechnic's practices in ensuring to be exemplars in the field of online and blended learning.
Posted on 28 August, 2020 in News