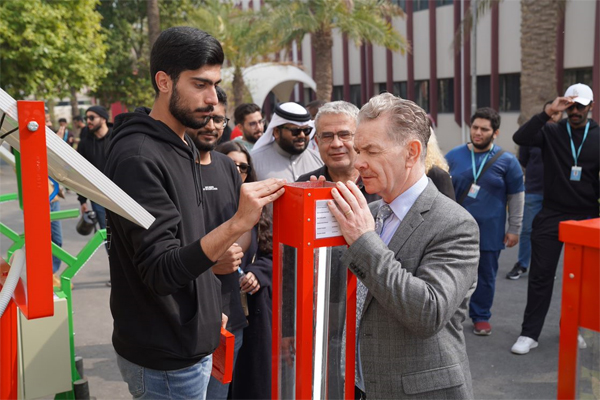 The final year Mechanical Engineering students at Bahrain Polytechnic designed, manufactured, tested, and assembled a solar-powered garden light that will be placed around the Polytechnic campus which will contribute to the campus's sustainability efforts while encouraging the student's creativity and innovation in the field of mechanical engineering.
On this occasion, the Chief Executive Officer of Bahrain Polytechnic, Professor Ciarán Ó Catháin expressed his admiration of the students' level of creativity and accuracy when producing this project. He added that this aligns with the global sustainability trends and assists in achieving the strategic goals of the Polytechnic in terms of investing in youth capabilities, ensuring a prosperous future for them and the national economy.
The Dean of the Engineering, Design and ICT Faculty, Professor Christina Georgantopoulou, stated: "The Mechanical Engineering students' project is an impressive accomplishment that demonstrates our students' commitment to sustainability, showcases their technical expertise, and gives a great example of how engineering can be used to improve everyday lives while being mindful of the impact on the environment."
The solar-powered garden light project provided the students with valuable employability skills that can be utilized in various fields, such as creativity, problem-solving, adaptability, and resilience. The project demonstrates the quality and delivery of academic programmes offered by the Polytechnic, and how its academic coursework provides a platform for practical applications.
The final year mechanical engineering students worked on this project for one semester under the supervision of their tutor, Nikolaos Vasilikos, Mechanical Engineering Lecturer, who stated: "The students started from the initial design phase and faced various manufacturing problems that required them to rely on their creativity, resourcefulness, and technical expertise to overcome them, while adhering to a time and resource restriction."
"The students had to perform calculations to determine the optimal angle placement for the solar panel and research the direction in which it had to be placed to maximize the solar energy absorption. All calculations and studies took place for a specific location, being our campus, and provided results that can be utilized for Solar energy applications in Bahrain and the GCC. These technical skills showcase the depth of knowledge and expertise required to successfully design and manufacture a functioning solar-powered garden light". Mr. Vasilikos added.
Developing renewable energy projects are one of the main pillars adopted in Bahrain Polytechnic's curricula. The Dean of Engineering, Design and ICT Faculty, Prof. Christina Georgantopoulou initiated these projects since 2015, which allowed engineering students to work on renewable energy applications for the industrial and residential sector in the Kingdom of Bahrain and the GCC countries.
Posted on 3 September, 2023 in News