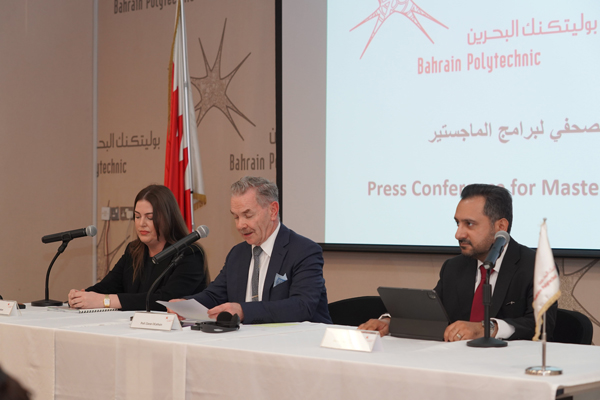 His Excellency Wael bin Nasser Al Mubarak, Minister of Municipalities and Agricultural Affairs, and Chairman of Bahrain Polytechnic's Board of Trustees, announced the launched of the first set of masters programmes offered by the Polytechnic ever since its establishment.
His Excellency stated during Bahrain Polytechnic's press conference held on Wednesday, 12th July 2023 to announce the launch of three Master Programmes, including: the Master of Science in Engineering (Applied) in Sustainable Energy Systems; Master of Science in Artificial Intelligence, and the Master in International Trade and Strategy. The three programmes are the first set of post-graduate degrees to be offered by Bahrain Polytechnic since its establishment in 2008.
He added: "The masters programmes were launched to meet the requirements of the labour market, and to achieve the Polytechnic's strategic plan 2023-26, that is in line with Bahrain's 2030 Vision, which seeks effective education that contributes to the comprehensive and sustainable development process. The programmes were also launched to further strengthen efforts to develop human capital which is in accordance with the directions set by the Government of Bahrain. These programmes are designed to equip students with the knowledge and skills needed to succeed in today's rapidly evolving job market."
He added: "As the world becomes increasingly focused on sustainable practices, it is essential that we have qualified professionals who can lead the way in developing and implementing sustainable energy solutions. The Masters of Science in Sustainable Energy Systems provides engineers with comprehensive training in sustainable and environmental sciences, solar and wind engineering, carbon reduction technologies, and energy economics and policy. The programme has been designed in consultation with industry experts to ensure that graduates have the knowledge and skills required to succeed in the workforce."
On this occasion, Chief Executive Officer of Bahrain Polytechnic, Professor Ciarán Ó Catháin, stated that the Polytechnic aimed to launch these master programmes to be in line with the emerging needs of the different sectors in the labour market and graduate a competent and qualified workforce in the Kingdom of Bahrain. He added that the programmes enhances the image of the Kingdom as a leading hub for technology and international trade in the region.
Professor Ó Catháin indicated that the Polytechnic aims to expand the base of Bahraini researchers and innovators, in order to bridge the gap between the economic growth and development that the Kingdom is witnessing and the scientific research process, adding that there is an urgent need in the technology and trade sector for qualified researchers who are able to innovate solutions for the various challenges in these sectors, which enables them to be competitive and to face the current and future challenges.
The Polytechnic CEO stated that admission for the masters programmes will start in August, emphasizing that the Polytechnic aspires to receive research students looking for excellence, creativity, and a modern international education.
For her part, Bahrain Polytechnic's Deputy CEO of Academic Affairs and Registrar Dr. Louise O'Nolan explained that the institution aims to provide the labour market with skilled graduates who have applied and professional qualifications. She stated: "It is widely acknowledged that engineering is a key sector and enabler for growth in any modern economy, which is why we introduced the Master of Science in Sustainable Energy Systems, that would help engineers to find comprehensive and effective solutions to the unsustainable practices that exist in the modern world. This programme includes a set of modules in sustainable and environmental sciences, in addition to sustainability management which includes solar energy engineering, wind engineering, carbon reduction technologies, the design and installation of a solar energy system, along with energy and environmental economics and policy making."
Bahrain Polytechnic is committed to delivering courses using student-centered learning, more specifically the Problem-Based Learning (PBL) methodology. The one-year (12-month) master's programme focuses on the core theories that form the cornerstone of the programme, with hands-on applied skills developed through a problem-based learning philosophy. Project work forms another building block of the programme, with a focus on projects in most courses, followed by a thesis in the final semester.
As for the Master of Science in Artificial Intelligence (AI), Dr. O'Nolan indicated that it targets students interested in developing their knowledge in data-based artificial intelligence,  through learning and applying processes and methods of knowledge representation and machine learning, data collection and interpretation using multidisciplinary scientific methods from statistics, programming, and specific application areas, to support automation, intelligent applications and informed business decision-making.
She added: "This degree is designed to qualify graduates of computer science, ICT, engineering, applied sciences, as well as graduates skilled in technology from other fields, to specialize in Artificial Intelligence, and to identify means through which they can apply knowledge in different fields based on their previous knowledge and interests."
The Master of International Trade and Strategy (MITS) programme developed by the School of Logistics and Maritime Studies is intended for individuals with technical backgrounds, such as accounting, banking, finance, or engineering, who aspire to or are about to assume senior management positions in organizations or businesses. Unlike an average MBA programme or a generic International Business programme, MITS is specifically designed to provide students with a deep understanding of the global trade landscape and the various policies, regulations, and procedures that govern international trade. The programme is structured to provide students with the skills and knowledge they will need to excel in their future roles managing the entire business. The programme covers a wide range of topics such as global supply chain strategies, international trade and business practices, international trade finance, trade laws, cross-cultural communication, and contract management and negotiation skills. These skills are essential for students who wish to succeed in senior management roles in international business. The qualification includes four courses for the first and second semester each as well as a thesis in the third and final semester. Passing all the courses and submitting the thesis leads to obtaining the masters degree.
Posted on 7 August, 2023 in News