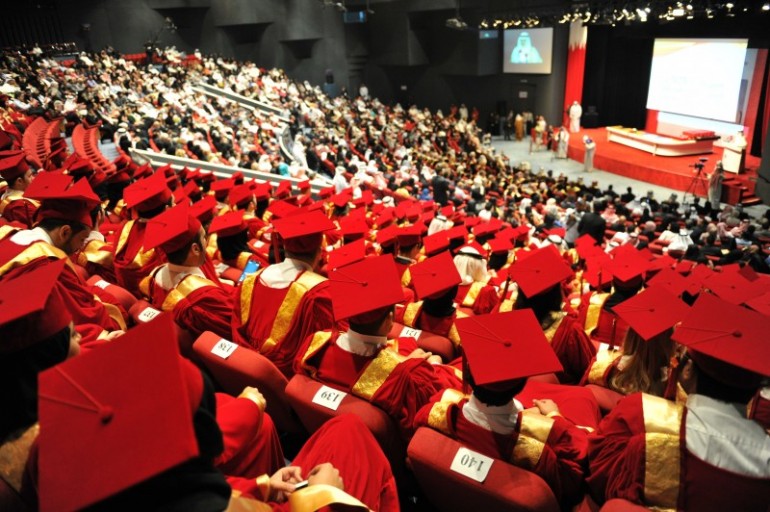 Bahrain Polytechnic's Registry Director Mr. Ahmed Malalla urged the Polytechnic graduates to attend the photography session for the purpose of the graduation booklet; as the Polytechnic prepares its graduation ceremony scheduled to be on 26th November 2015.
Mr. Malalla stated that preparations for the Polytechnic's second graduation ceremony is underway; marking an important day for both the graduates and the Polytechnic.
He added that the photography session for the participating graduates began on Sunday, 18th October and ends on Thursday, 29th October 2015. With the deadline coming to a close, graduates must make their way to Building 24 (Student Council headquarters) at the Polytechnic campus in Isa Town from 4 PM – 8 PM in order to get their photo taken.
Graduates are required to dress formally for the photography session. Males would have to wear either white thobe, ghutra and agal, or a formal suit with a white shirt and a tie. Females would have to wear either a black abaya with black shaila or hijab, or a formal suit with a white shirt.
Should the graduate not attend the photography session, the Polytechnic will resort to using the graduate's student ID photo for the booklet.
Furthermore, Mr. Malalla emphasized that the graduates would need to update their personal data and confirm their attendance to the graduation ceremony.
The second graduation ceremony of Bahrain Polytechnic will be held under the patronage of His Highness Deputy Prime Minister Sh. Mohammed bin Mubarak Al Khalifa, taking place on 26th November 2015 at the Sh. Abdulaziz bin Mohammed Al Khalifa Hall at the University of Bahrain campus in Sakhir.
Posted on 27 October, 2015 in News