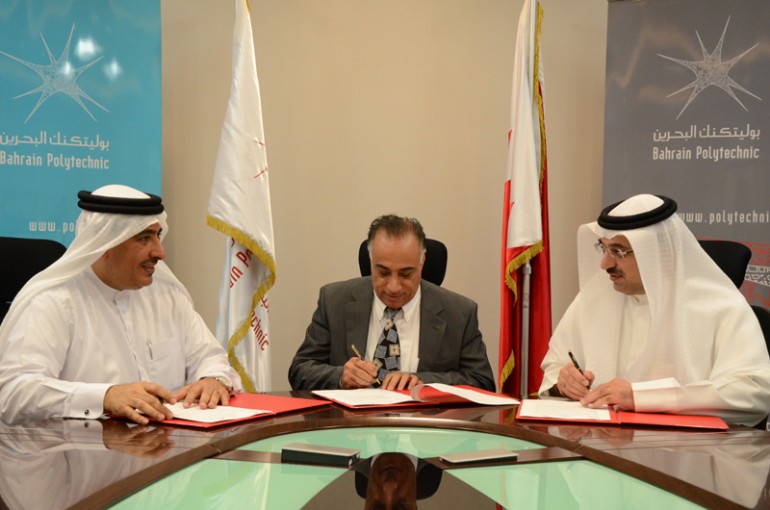 Bahrain Polytechnic and eShabab signed a memorandum of understanding at 9th June, enabling the Polytechnic students to participate in the upcoming 'Invotech 2013' to showcase and market their already existing university projects.
The agreement will help the Polytechnic students to be innovative and gain entrepreneurial skills. Organized by "Work Smart" under the patronage of Minister of State for Telecommunications affairs Shaikh Fawaz bin Mohammed Al Khalifa, students will market their projects in a competitive environment at the upcoming 'Invotech 2013' event starting from July 1st-3rd 2013 at the Bahrain International Exhibition Centre. The occasion brings more than 20 speakers from around the world, additionally featuring all the latest innovations and technologies.
"The Board of Trustees, chaired by Shaikh Hisham bin Abdulaziz Al Khalifa and executive management favored the idea, as it involves the development and refinement of our students; meeting the requirements of Bahrain's 2030 Vision and the governments work program 2011-2014." stated Dr. Mohamed Al-Aseeri, Acting Chief Executive Officer of Bahrain Polytechnic.
Chief Executive Officer of Gulf Future Business, Ahmed Alhujairy said, "These young people will possess an additional factor to their career, because it allows them to think different, participate in activities outside the Polytechnic and gets them involved with the community."
Jameel Al Najjar, Chief Executive Officer of Bahrain Technology Companies Society (BTech) concluded, "This is an event which suits anyone who's interested in innovation and technology. We aim to further develop the market of information and communication technology by linking technological and academic industries together, raising the level of productivity and quality of it."
The 'eShabab' initiative came as an acknowledgement to the need to support youth in Bahrain, bringing their creative projects to light in order to benefit the society in the future.
Posted on 9 June, 2013 in News