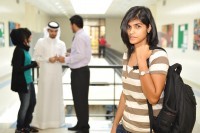 Huda Alhalwachi, Bahrain Polytechnic's Manager of Enrollments, progression and results would like to inform students recently receiving scholarships wishing to study at the Polytechnic, whether through the Ministry of Education or industrial companies, should take the initiative to apply for enrollment, as only one week remains until registration closes.
Mrs. Alhalwachi alerts the students with scholarships that they have from June 30th until July 4th until the registration officially closes, as a late admission in the first semester of 2013-2014 will have to wait for another full academic year until the door is open to enroll again for the 2014-2015 year.
She also added that students, with or without scholarships, must meet the conditions and procedures in order to enroll, starting with filling an application and submitting it before the deadline on July 4th, going through routine procedures and finally pass the entrance exam on July 6th.
Bahrain Polytechnic would also like to inform that it's accepting students which high level standards, especially in English and Mathematics, since English is the studying language.
On the other hand, students wishing to study programs such as ICT or engineering are required to pass a supplementary test. Additionally, students wishing to study Visual Design must provide an updated portfolio to the Students Information Centre (Building 8) no later than July 11th.
Posted on 30 June, 2013 in News