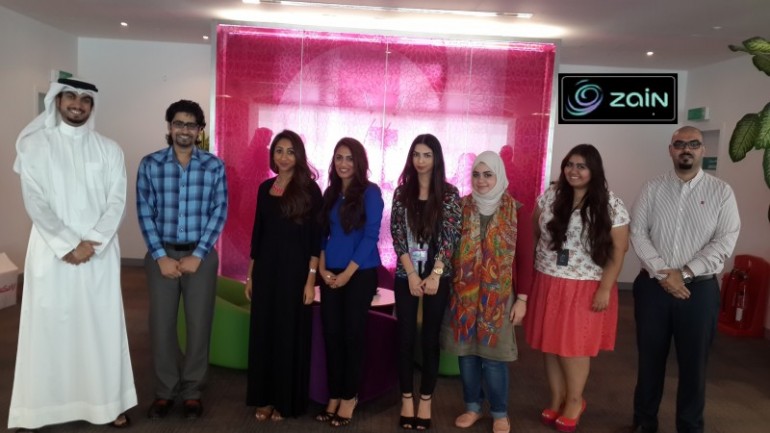 For the past four months six final year Bahrain Polytechnic Business School students having been completing their studies by working on real marketing and management projects at Zain.
In March of this year, four marketing and two management students joined Zain as part of an innovative Bahrain Polytechnic initiative to create work ready graduates. These students are adding value to Zain by working on communication, research and human resource projects.
Zain provided students with office space, supervision, access to internal information and provided a variety of challenging projects related to the student's area of expertise. Students spend the entire semester applying their learning and knowledge to present effective plans and solutions on their allocated project. The added motivation for students is their final semester grades are dependent on how effective the solutions are and how ready they are for the workplace.
"We are delighted to support Bahrain Polytechnic in developing work ready graduates , this is in line with our commitment to providing young people hands-on work experience in our company as part of our Future University Network (FUN) Program" explains Mohamed Isa Amralla, FUN Manager at Zain. He adds "This is a vital part of our active commitment to youth of Bahrain and for preparing them for their future careers."
Dana Bukhammas, Human Resource Manager at Zain explains "Our experience with Bahrain Polytechnic students shows us that …they tend to understand what is required to compete in the labour market and have a highly professional work ethic and standards". She added "We recognise this when selecting part-time staff for our call centre, with the majority of our staff coming from Bahrain Polytechnic. We were delighted to support final semester students with real industry projects as we trust Bahrain Polytechnic students to perform at a high level".
Commenting on the Zain Polytechnic partnership, Alison Reynolds, the Head of the Business School, had this to say, "This is a fantastic opportunity for our students to showcase their talents and to prove to employers and industry that they are work ready. Zain have played a crucial role in these students development and provided an exciting first step on the road to success in their chosen careers". She further explained "This is a mutually beneficial relationship as Zain benefit from a fresh perspective as students add real value by applying the latest business theory and knowledge to effectively solve some of their business problems. We hope to continue to find reputable partners like Zain, to be able to provide highly skilled graduates that meet the needs of the Bahraini labour market."
Posted on 30 June, 2013 in News