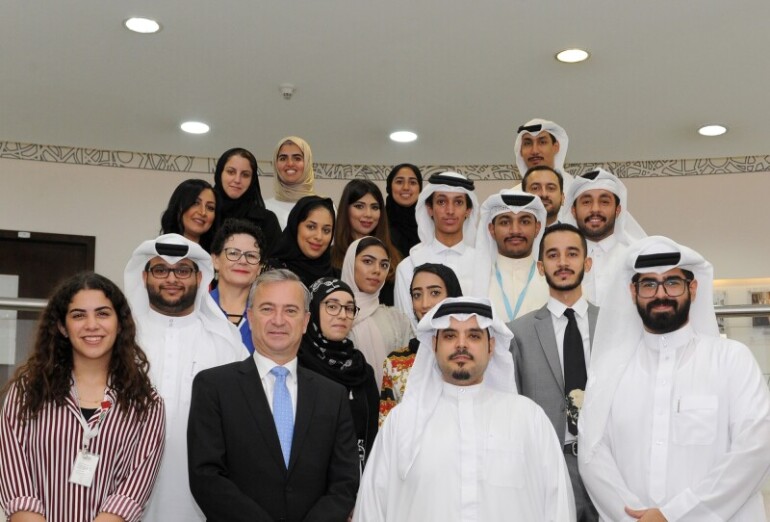 Bahrain Polytechnic's CEO, Dr. Jeff Zabudsky, has approved the formation of the new Bahrain Polytechnic Student Council (BPSC) for the year 2019-2020 on Tuesday, 14th May 2019. Ola Sari has been announced as the BPSC president, and this is considered the second time a female student was announced as president ever since the establishment of the student council.
The nominated students were enthusiastic to show their goals and commitment towards other students.
The distribution of the other positions were as follows: Yusuf Ahmed Abdulrahman (Vice President), Fatema Shaker Alsalaous (Secretary), and Abdulrahman Ebrahim Naji (Financial Treasurer).
As for the committee chairs, they were distributed accordingly: Yusuf Ahmed Alawi (Student Services Committee Chair), Lulwa Mohamed Alsada (Student Services Committee Vice Chair), Nada Rajab Almusawi (Social Committee Chair), Abdulla Yusuf Almannaei (Social Committee Vice Chair), Layan Fouad Mohammed Alsayde (Art & Culture Committee Chair), Naser Mohamed Naser (Sports Committee Chair), and Mohamed Jamal Aldoseri (Sports Committee Vice Chair).
Dr. Jeff Zabudsky congratulated the new student council members, headed by Ola Sari who is the second female to become BPSC president. He expressed his full confidence in its ability to lead the Council to play its role in representing the students and communicating their problems and needs to the administration. They will also be responsible for organizing events such as sports tournaments, educational and charity events.
Additionally, Dr. Zabudsky expressed his sincere gratitude to the previous student council, and wishes them the best in their future endeavors. He also thanked the Acting Director of Student Services, Ms. Catherine Walker, and to all staff for their efforts in supporting BPSC ever since its establishment.
Posted on 15 May, 2019 in News