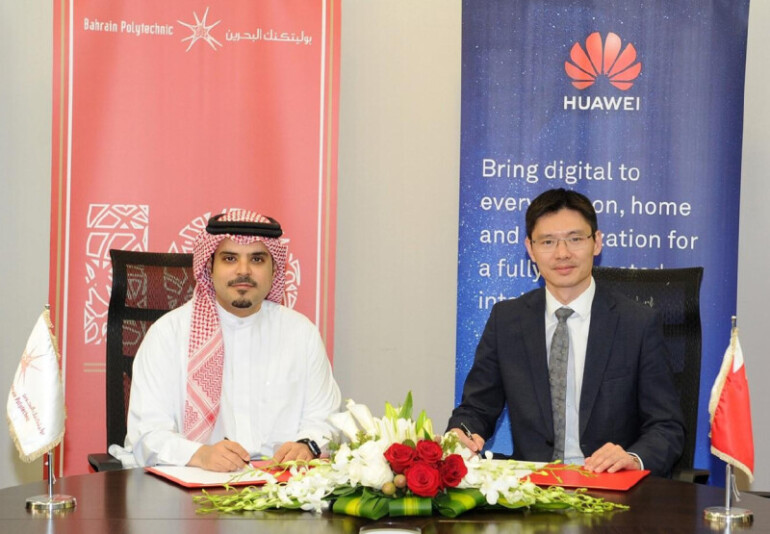 A new Memorandum of Understanding (MoU) between Bahrain Polytechnic and Huawei, a leading global provider of information and communications technology (ICT) infrastructure and smart devices, will see the two organizations working together to enhance local talent in Bahrain and create job opportunities in the field of information and communications technology (ICT).
Through the partnership, Bahrain Polytechnic will be the first higher education institution in the Kingdom to launch the Huawei ICT Academy. The Academy, which will be located in Bahrain Polytechnic's Isa Town campus, will provide opportunities for Bahrainis to enhance their knowledge within the ICT realm.
Students will be able to participate in courses based on the Huawei Certification system and in line with the industry's best practices. Internship programs will also be available.
The announcement comes at a time when the Bahrain Economic Development Board has made the development of the country's ICT sector a major priority, with many global IT companies choosing Bahrain as a hub due to cost competitiveness, flexible ownership structures, market access, and the increasing availability of local talent.
Sh. Ali bin Abdulrahman Al Khalifa, Deputy CEO of Resources and Information Affairs, said: "The ICT sector in Bahrain is thriving, and there are opportunities to be seized. This field represents a solid future for many students, and partnering with Huawei to launch the ICT Academy will enable us to prepare talented youth to enter a world that is becoming increasingly connected and driven by technology."
Mr. Jon Lu Yuedong, CEO Huawei Technologies Bahrain, said: "Through the ICT Academy and in partnership with Bahrain Polytechnic, we will provide training opportunities that can raise students to the highest level of professional competence. Our courses are in line with global industry standards, inspired by Huawei's own progressive approach to the evolution of ICT."
Huawei has been in constant contact with Bahrain Polytechnic to provide training opportunities to its students and support its initiative to enhance students' skills. One of the most important highlights of Huawei's support was the funding and establishing of the Huawei Center at the campus. The center was inaugurated during the Polytechnic's 10 year anniversary celebration by His Highness Sh. Mohammed bin Mubarak Al Khalifa, Deputy Prime Minister and Chairman of the Higher Council for the Development of Education and Training, which was held in December 2018.
Posted on 6 May, 2019 in News