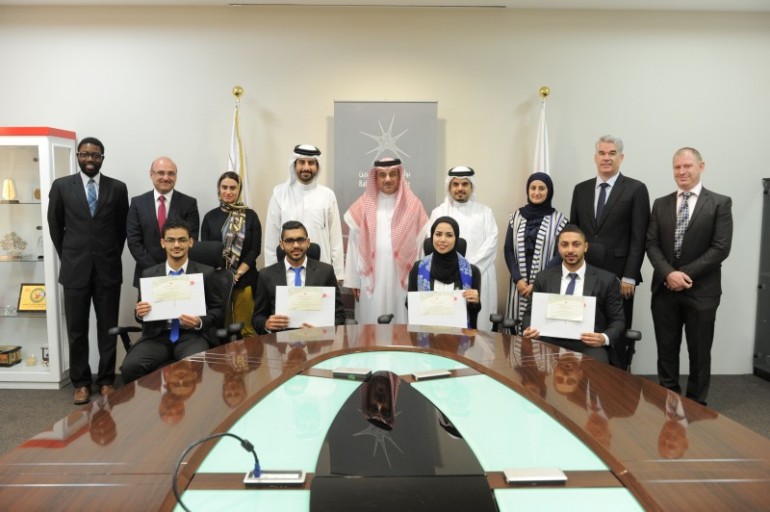 Bahrain Polytechnic accounting students participated in the annual IMA 2016 Middle East Case Study Competition held at Dubai on 28th May 2016, where participants were asked to showcase their analytical skills by solving a real life management accounting case through a presentation. The team was sponsored by Ithmaar Bank to travel to Dubai and present their case study in front of a panel of industry experts in May 2016.
IMA is The Association of Accountants and Financial Professionals in Business. Over years IMA has been a champion of and a resource for the financial management and accounting profession. The IMA 2016 Middle East Case Study Competition is for universities in Middle East and Africa region.
This year, a team of six Bahrain Polytechnic students was among the top five finalists selected from 35 teams participated from different countries in the MENA region, such as Bahrain, Egypt, KSA, Lebanon, Qatar and UAE.
This competition gave the students the chance to apply all employability skills they developed on a real life business challenge, and encouraged them to look beyond the numbers and think strategically as consultants and business partners adding value to the organization.
Dr. Mohamed Al Aseeri, Acting CEO of Bahrain Polytechnic, was delighted to see the students advance far in the competition at a regional level.
"Our students have always been involved in local, regional and international competitions. We want our students to practice what they have learnt before they graduate, which is part of our strategic plan to enhance graduate reputation.
"I would like to express my thanks to Ithmaar Bank for their support and sponsoring our students to present their case in Dubai.
"We are happy to be consistent in this regard, as we strive to meet Bahrain's 2030 Vision and government work plan 2015-2018." concluded the Acting CEO.
An awarding ceremony was held at the campus, where Dr. Al Aseeri honored the students who participated at the competition. The students were Ali Alsaqer, Ali Sarhan, Alya Naser, Hasan Albahrani, Husain Alsekri, Sayed Mohamed Almuhafdha and mentored by Mrs. Shaima Alansari.
Posted on 13 July, 2016 in News