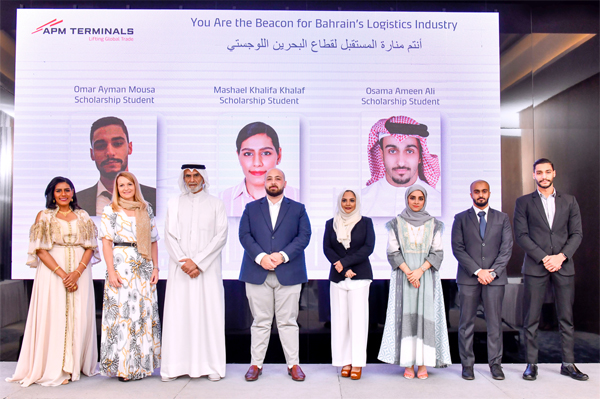 Three international logistics management graduates of Bahrain Polytechnic have been awarded a scholarship by APM Terminals Bahrain, to study at South Shields Marine School in the United Kingdom for three years.
The award of this grant came during the recent Ramadan Ghabga held by APM Terminals Bahrain, where Maureen Bannerman, CEO of APMT Bahrain, and Sh. Ahmed bin Isa bin Khalifa Al Khalifa,  Undersecretary for Ports and Maritime Affairs at the Ministry of Transport and Communications, awarded the Polytechnic graduates Osama Debwan, Omar Wahdan and Mashael Khalaf.
The three graduates were nominated for the scholarship out of more than 130 applications for the scholarship programme. It is expected that all three will eventually obtain the status of Officer of the Watch and eventually qualify as a Master Mariner, thus making Mashael Khalaf the first Bahraini woman to embark on her path to serve as a sea captain. The Deputy CEO for Academic Affairs at the Polytechnic, Dr. Reem Al Buainain, also received an award on behalf of the Polytechnic from Maureen Bannerman and Sh. Ahmed Al Khalifa for the Polytechnic's continuous support for the development of Bahrainis in the maritime sector.
Maureen Bannerman emphasized that the three successful graduates of the Polytechnic are of very high quality, which was admired by the interview panel. Commenting on the partnership, she stated: "We are very proud to be working alongside Bahrain Polytechnic to empower the next wave of local talent in the maritime and logistics sector. In an effort to achieve Bahrain's Economic Vision 2030 and as contributors to Bahrain's economy, we are honoured to offer training and employment opportunities for talented individuals with potential to become leaders in the sector. At APM Terminals, we believe in uplifting local talent to create job opportunities while contributing to diversifying Bahrain's economy."
For his part, the CEO of Bahrain Polytechnic, Professor Ciarán Ó Catháin, expressed his delight at seeing Polytechnic graduates receiving the scholarship, stating: "This scholarship award given to our graduates is in line with our strategic plan 2020-2024 to fill the gap in the labor market in this vital sector with skilled, specialized and talented students. The scholarship will enrich the international experience of our graduates in the field of logistics, as we are keen on opening more opportunities with global universities through multiple collaborations and exchange agreements. As a result, this will enhance our contribution to the development of the logistics sector, as one of the priority economic sectors in the Kingdom of Bahrain, and also contribute towards the objectives of Bahrain's 2030 Vision."
The graduates will study abroad for a period of three years, including one year at sea aboard the Maersk. Candidates are expected to graduate as qualified marine officers and pursue a career in the maritime sector to help Bahrainis contribute to this vital industry.
Posted on 25 July, 2022 in News