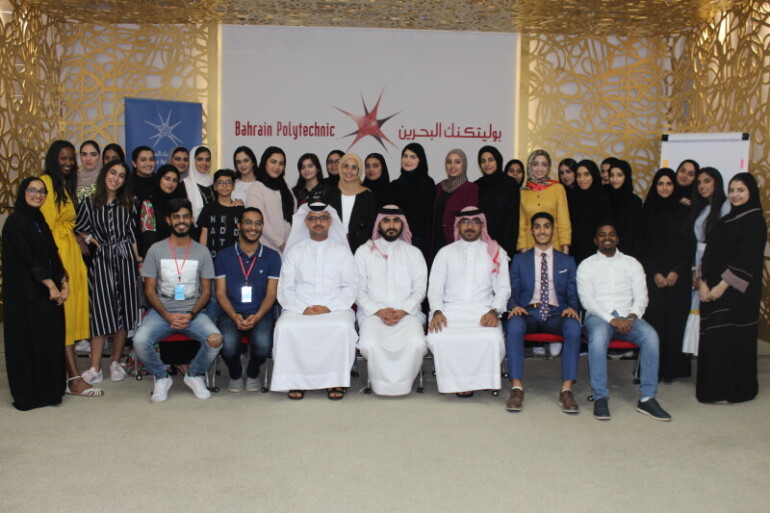 Bahrain Polytechnic concluded its second youth camp (Future Skills), which was held for eight working days during July. The camp welcomed 33 university students of both genders from several local universities, including Bahrain Polytechnic, University of Bahrain, Applied Sciences University, British University of Bahrain, as well as staff relatives at the university level.
The aim of the summer camp was to develop students' employability skills and prepare them for the labor market through series of interactive workshops conducted in dynamic learning environment. The workshops covered the following titles: self-communication, communication with others, collaboration, conflict resolution, critical thinking and creative thinking.
The Deputy Chief Executive Officer of Resources & Information Affairs Sh. Ali Bin Abdulrahman Al Khalifa appreciated the efforts of the organizing committee for the camp, stressing the importance of  building the capability of the youth intellectually and practically, to produce work-ready graduates, equipped with the necessary 21st century skills before entering today's corporate world. "We are proud to be a leading institution for higher education in Kingdom of Bahrain that values Bahrain's Vision 2030 in which education is cited as one of the economic development projects", he added.
The Director of Student Services Catherine Walker stressed the keenness of the department to support, empower and motivate the youth through an exciting and attractive learning experience.
The coordinator of the camp, from the academic staff Sana Al-Amari, explained that the organizing committee for the summer camp  was formed from the participants of Bahrain Polytechnic  Winter Camp in order to build leadership figures who are confident of themselves, capable of taking responsibility and aware of what is expected of them in the professional world.
It is also worth mentioning that in 2016, the new employability framework was established to highlight two systems adopted by the institution: the learning opportunities and the assurance of learning. Both systems are learner centered in which the learners develop their knowledge, skills and attributes.
Posted on 4 August, 2019 in News