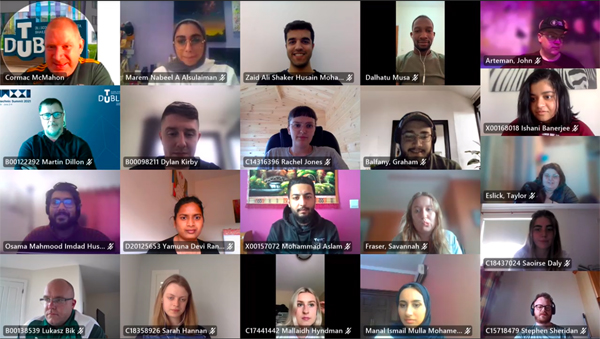 Organized by Technological University Dublin in partnership with international universities and institutions
Bahrain Polytechnic has sent a group of engineering students to participate in the "Virtual Sustainability Summer School" program organized by Technological University Dubin in Ireland in partnership with a number of international universities and institutions. The program aims to bring together students from all over the world and work in multidisciplinary teams on community sustainability projects using a project-based learning approach. This gives students the opportunity to develop their critical thinking skills and be specialists in their professional or research field to solve complex sustainability problems in the community.
For her part, Director of Academic Development and Commercial Initiatives at the Polytechnic, Ms. Ema Janahi, stated: "Bahrain Polytechnic is identifying many initiatives which goes in line with our 2020-2024 strategic plan which supports internationalization. One of these initiatives is providing internships, projects, and summer schools for our students by collaborating with international industries or higher education institutions in order to improve graduate outcomes and ensure they are work-ready to meet local, regional, and international labor market requirements."
Manal Kamal (1st year engineering student) described her experience at the 2021 Polytechnic Alliance Sustainability Summer School as an 'incredibly enriching', and said: "It gave us the opportunity to explore interdisciplinary approaches to problem-solving and sustainability as well as the opportunity to work on projects with people from various cultural and academic backgrounds to come up with solutions for real-life problems. The presentations and workshops given during the summer school helped us understand different areas of sustainability and how they relate to the UN's sustainable development goals."
Manal added: "My group's project was the "Carbon Neutral Hotel" and the aim of the project was to help the Westlodge Hotel in Bantry, Ireland, achieve an Eco-label accreditation through the Green Hospitality Programme by evaluating solutions for sustainable energy, water, and waste management and ensuring they have balanced biodiversity to reduce their overall carbon footprint. With guidance from two TU Dublin mentors, the process involved identifying group skills and expertise, having a consultation call with the general manager of the hotel, prioritization of key problem areas and possible solutions, as well as providing guidance and direction to the hotel for them to achieve the accreditation. The project was presented at the Polytechnic summit on the 2nd of June 2021 and the group is set to have a meeting with the hotel in the near future for feedback purposes.
As for the student Abdulrahman Alam (2nd year electronic engineering), he said: "My experience in the sustainability summer school was delightful, not only was it an amazing experience to be there but also to get to meet other people who were like-minded and striving to achieve a green future.
As for the project, it was a fun and educational experience, despite each individual in our group having a different major and occupation that has no relation to the summer project, we got to brainstorm and critically think about our designs and how they should be implemented. Overall it was fun, educational, and really looking forward to apply [again] in the future."
In addition, student Marem Alsulaiman (4th year mechanical engineering) said: "The virtual sustainability summer school was well run and organized; it was a wonderful experience to meet different people around the world who have different knowledge to achieve one aim. I was in project one, "Nature in an ever-changing the world". Project one goals were to consider the values of nature, ecosystem services of our environment, and can these places of nature improve. It was amazing to improve my communication skills as well as team working skills."
Osama Awan (3rd year mechanical Engineering) said: "A green initiative summer course, that ran on virtual platform but held many answers to different kinds of pollution. I am happy to be a part of this course that made me realize that there are many ways to solve this global issue."
In turn, student Zaid Al Tawash (4th year mechanical Engineering) said: "The PS2021 virtual sustainability summer school was a great opportunity to meet students from different backgrounds and nationalities who share the common interest of sustainable development. My project was to design a product that is powered by solar energy and helps reduce electricity bills in Small and Medium Enterprises (SMEs). It was valuable to learn about solar and wind energy from a business perspective, since it complements my technical knowledge gained through my engineering courses at Bahrain Polytechnic."
Posted on 21 June, 2021 in News