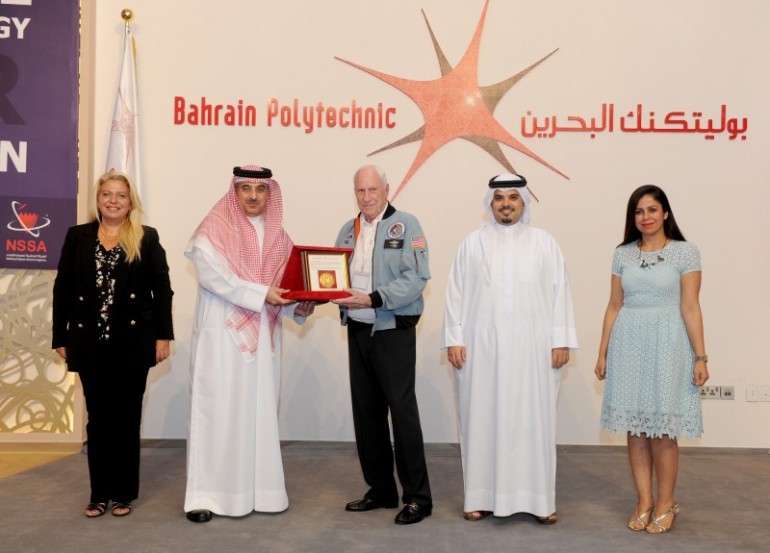 Under the patronage of His Excellency the Minister of Transportation and Telecommunications, Eng. Kamal bin Ahmed Mohammed, Bahrain Polytechnic in partnership with  the National Space Science Agency (NSSA) have organized a symposium titled: "Space Technology for Bahrain", on Sunday and Monday 11th and 12th November 2018 at Bahrain Hall in Bahrain Polytechnic Campus – Isa Town.
The Symposium consisted of a series of presentations in the theme of scientific presentations on space techniques, the use of space applications to support development projects, the review of global experiences in the field of capacity building in space and the possibility of benefiting from international projects in this field. The symposium was attended by local, regional and international professional experts in space technology and various sciences. Additionally, in attendance was senior officials from the public and private sectors, representatives from various government sectors related to space-related technical applications, and the participation of elite university professors and students.
Former NASA Astronaut Alfred M. Worden delivered keynote about his incredible journey which saw him orbit the moon for six days, he gave his unique views on space travel, and the possibility of alien life.  Worden was one of the 19 astronauts selected by NASA in April 1966. He served as a member of the astronaut support crew for the Apollo 9 flight and as backup command module pilot for the Apollo 12 flight.
On this occasion, the Director of the Academic Development Department, Ema Janahi expressed her thanks and appreciation to His Excellency the Minister of Transportation and Telecommunications, Engineer Kamal bin Ahmed Mohammed and to His Excellency Dr. Eng. Mohamed Al-Aseeri, Chief Executive of the National Space Science Agency (NSSA) for participating in the preparation and organization of this symposium.
Ms. Janahi expressed her thanks to the all participants and the speakers at the symposium, stressing that this symposium provided excellent opportunities to share information about the space technology and their role in improving the life of the Bahraini society. She added that the aim of this symposium was to encourage higher education institutions, as well as other related institutions, to invest and contribute in this rapidly growing sector.
Posted on 13 November, 2018 in News