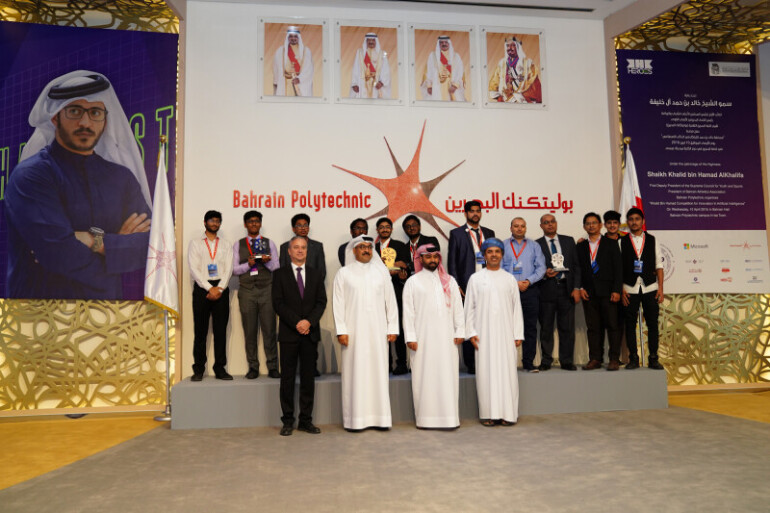 In collaboration with Microsoft and HHSK Media Office, Bahrain Polytechnic hosted the closing ceremony for the second edition of the Khalid bin Hamad Competition for Innovation in Artificial Intelligence at the campus on 9th April 2019, held under the patronage of His Highness Sh. Khalid bin Hamad Al Khalifa, First Deputy President of the Supreme Council for Youth and Sports (SCYS), President of Bahrain Athletics Association (BAA).
The teams with the best projects were awarded by His Highness Sh. Khalid bin Hamad Al Khalifa in several categories, including cash prizes for university and high school students, a special award and mentorship opportunity from Bahrain FinTech Bay for the most innovative project, and training opportunities from Think Smart.
The competition tests the participants abilities on creating innovative projects that use one of more of Microsoft Azure features for Artificial Intelligence. The participants, consisting of 1-3 members, had four weeks to work on the project. Afterwards, each team's project was judged by an evaluation panel during an exhibition event.
CEO of Bahrain Polytechnic, Dr. Jeff Zabudsky, stated: "I'm glad to see that the second edition of this competition has been a great success. We have witnessed some great projects throughout this time, which goes to show the outstanding talent we have in the region. Having students with these capabilities shows that the youth are in line with Bahrain's 2030 Vision. I would like to congratulate the winners of this years competition and we look forward to hosting the third edition in the future."
Posted on 5 May, 2019 in News