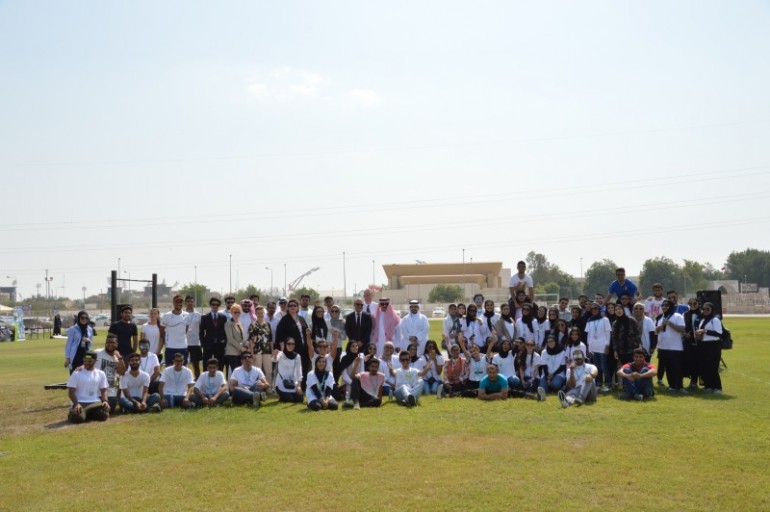 The Bahrain Polytechnic Student Council (BPSC), under the supervision of the executive management, hosted its annual Sports Day event at the campus from 12 PM – 3 PM, where more 570 Polytechnic students, staff, graduates, including 376 from other institutes, attended and participated in an animated day of various sports-related activities.
The Sports Day event included a taekwondo show, sports exercises, and sports & health awareness campaigns. The highlight of the event was the "Color Run", where participants were covered with colors to raise awareness about Down Syndrome and run on a track. Later on, a walkathon was conducted around the campus to spread the cause.
Hasan Al Tooq, President of BPSC, stated: "The annual Sports Day event is a great way for the students and staff to enjoy a day full of activities. We want to create an atmosphere where Bahrain Polytechnic can be a second home to students, and creating a community is the first step to achieve that.
"Furthermore, conducting the Color Run to support people with Down Syndrome during Sports Day left a positive touch in the hearts of the attendees, and gave them the will to serve the community and other people.
"We hope to conduct more events in order to create a friendly environment in the campus. I would like to thank the executive management for their efforts in making the event happen, as well as the Voluntary Club members and BPSC members. I would also like to thank all companies which supported the event on the day." said Hasan Al Tooq.
Dr. Mohamed Al Aseeri, Acting CEO, commented: "The purpose of conducting Sports Day is to spread the spirit of challenge and provide an entertaining atmosphere to our students and staff.
"The "Color Run" event was a great opportunity to raise awareness about Down Syndrome, and we're delighted that BPSC have organized an event which links with one of our goals of our strategic plan; where we foster graduates that are positively engaged with the community.
"Our student council has been very effective in creating a social environment between all students and staff. The annual Sports Day event is just one of many events they have conducted, and we look forward to more of their events." concluded Dr. Al Aseeri, who attended the event with several members of the senior management team.
Bahrain Polytechnic and its student council would like to thank VIVA Bahrain for supporting the Sports Day event.
Posted on 23 October, 2016 in News