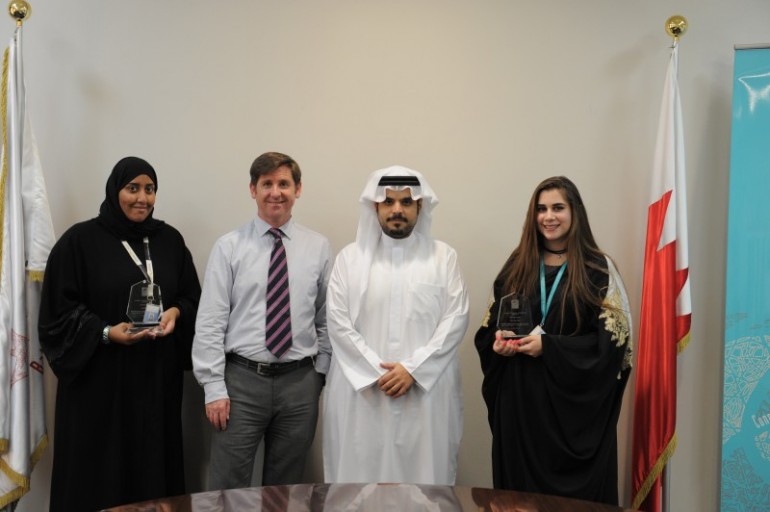 Three Bahrain Polytechnic Humanities Elective students won second place in the Student Case Study Competition, where they were awarded on 26th May 2016 at Ahlia University campus after writing a case study on the Health and Safety Policy at Alba.
Organized by the Pearl Initiative, a United Nations affiliated organization, the competition aims to increase knowledge on corporate accountability and understand real-life applications of ethical business. The competition asked students from various universities across Bahrain to write a case study on integrity related business practice. More than 30 case studies across all universities were carefully reviewed and evaluated by an expert judging panel.
Polytechnic students Alaa Matooq, Yusrah Odeh and Maryam Almurbati chose Alba and were able to research, document and interview their representatives on the good practice that exists in the award winning Aluminum smelting company.
Dr. Mohamed Al Aseeri, Acting CEO of Bahrain Polytechnic, praised the students for their efforts to secure second place, adding that Polytechnic students are no strangers to local, regional and international competitions.
"I'm delighted to see our students finish second after challenging many teams which participated in the competition. These competitions help our students test their skills before they enter the business environment, and producing work-ready graduates has always been our goal.
"I'd like to thank the students and tutors who have worked hard to participate in the competition and earn this achievement, as we strive to meet Bahrain's 2030 Vision and the government work plan 2015-2018." concluded Dr. Al Aseeri.
The students were thanked by the Deputy CEO of Resources & Information Affairs, Sh. Ali bin Abdulrahman Al Khalifa, at the Polytechnic campus, encouraging them to participate in further competitions in the future.
The Humanities Electives program has a variety of courses. The winning students were all from Football & Globalization. The global nature of the course and its investigation into transparency and corruption was a good fit for the competition.
Posted on 12 June, 2016 in News