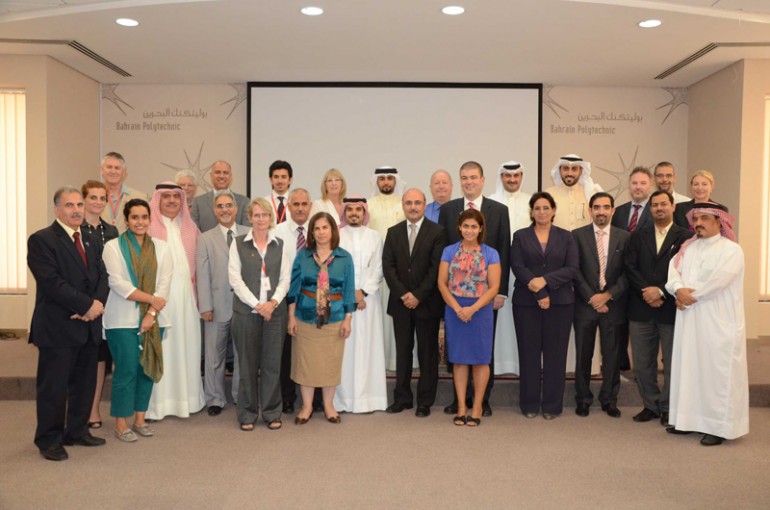 Industrial partners from several top companies were invited to attend Bahrain Polytechnic's strategic workshop event hosted at their campus on 24th July, aiming to collect suggestions and ideas to draft the 2014-2019 Bahrain Polytechnic strategic plan.
The workshop was made exclusively for the industrial partners of Bahrain Polytechnic, such as Naseej and Bahrain Finance Company . Four groups were formed and they had to come up with various suggestions using the popular analytical tools of commerce such as the PESTEL and SWOT analysis.
"We established a Strategic Planning Committee (SPC) on March, where they will assist in the development of a new strategic plan for the next 5 years based on our recent mission, vision and values." spoke Dr. Hasan Almulla, Deputy CEO of Bahrain Polytechnic.
The agenda concluded by each group placing a mark on the most important issues raised during the session.
Using the information gathered, a report will be drafted out by the SPC, highlighting many aspects including external & internal characteristics of the Polytechnic, analyzing strengths & weaknesses and a list of recommendations.
Dr. Almulla continued: "The ideas that we got from our partners will build the foundation of our final report. We will take all their suggestions into consideration."
The deputy CEO stresses that ongoing communication shows the quality of the government educational institution by acknowledging feedback from all stakeholders and how it will benefit Bahrain's Vision 2030.
"As we strive on producing work-ready graduates, we have previously done a similar workshop for our students. We value inputs from all our stakeholders." he concluded.
For a broader report, the committee will conduct one more workshop for the Board of Trustees in the future, considering it to be the final piece of the puzzle.
Posted on 24 July, 2013 in News