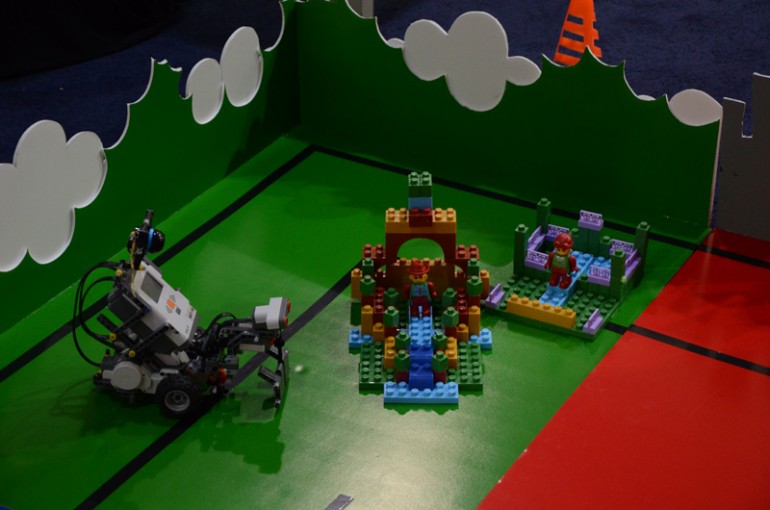 Innovation and creativity sum up the ICT Project Exhibition which took place on June 25th at the Bahrain Polytechnic campus, where students displayed their ICT projects based on imagination and, notably, solutions to real world problems.
Organized by Bahrain Polytechnic & the Bachelor of Informational and Communication Technology (BICT) School, around 50 third year ICT students were given business problems to solve using the latest technologies and problem based learning approach. The showcasing was followed by a ceremony to award the best projects made.
"The students had 15 weeks to prepare their projects, where we provided them with supervisory guidance during their technological journey. Later on, they are presented to three panel members who ranked their projects according to their ability to plan, analyze, design and implement a technology solution." remarked Bahrain Polytechnic's recently appointed Acting Head of the School for ICT & Web Academy, Dr. Philippe Pringuet.
Students were allowed to "be inventive" when doing their final assignment of the semester, coming up with different ideas, such as Faisal Khonji's Academic Advising webpage, Abdulmonem Ali's 2D video game and Zainab Abduljabber's Kinetic-controlled Robot.
"Some of the projects were useful applications specifically tailored to the Polytechnic, making tasks like movement around campus, data entry and security more enhanced. All students exceeded the standards, presented professionally and enjoyed their outcome." he continued.
Dr. Pringuet announced the winning Project of the year 2013 in each of the four majors: Programming, Database, Networking and MIS.
The four projects were awarded with an engraved plaque. Zain, the Gold Sponsor, granted prizes to each of the following students: Asma S. Althawadi – Bahrain Polytechnic Student Mentoring System (Database System), Shuaib M. Mohammed – Enterprise Unified Data Communication System (Networking and Infrastructure), Zainab Ali – Employability Skills Evaluation System (Management Information System).
Bahrain Finance Company (BFC) has awarded Abdulmonem M.  Ali – 'Where Are You 2D Game?' (Programming) with the last prize. The event was also sponsored by Wiley Publishing as a silver sponsor.
Additionally, Bahrain Development Bank (BDB), which recently signed a memorandum of understanding with Bahrain Polytechnic to collaborate on providing mentorship and other services for young entrepreneurs, were involved in the occasion as they gave out a presentation during the ceremony.
Mr. Nedhal Al-Aujan, CEO of BDB, commented: "We are glad to play our part in helping the younger generation grow. The majority of the quality projects presented shows how the Polytechnic is consistent with sustaining its high standard education. We look forward to further cooperating with Bahrain Polytechnic and their students."
Dr. Pringuet concluded: "These are the kinds of students we want in the Kingdom of Bahrain; work-ready students able to solve problems. They have all learned a valuable lesson from this experience and I want to express my thanks to the students and staff for their hard work and for the Bahrain Polytechnic top management for their continuous support."
Acting CEO of Bahrain Polytechnic Dr. Mohamed Al-Aseeri also paid tribute to the students and staff for their efforts to keep Bahrain Polytechnic in line with Bahrain's 2030 Vision and the governments 2011-2014 program. He also thanked Zain, Wiley and BFC for their sponsorship support as well as the participants and the academic staff.
Posted on 25 June, 2013 in News