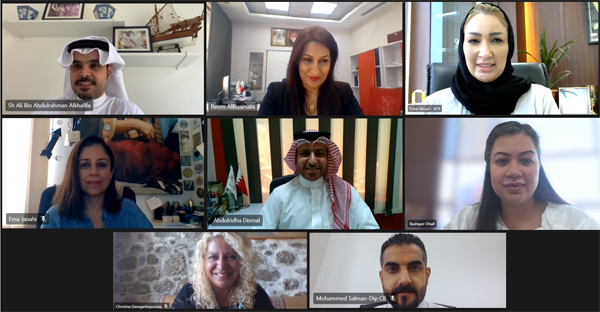 Within the framework of its policy aimed at forging partnerships with various entities in order to develop its students, Bahrain Polytechnic signed a memorandum of understanding with Bahrain National Insurance (bni), on Wednesday, August 4, 2021, that will enable Polytechnic students to benefit from the vast experience of bni. Students will have the opportunity to apply the knowledge and skills they acquired during their studies at the company while receiving practical training.
The memorandum of understanding, which took place virtually, was signed by Bahrain Polytechnic's Acting CEO, Dr. Reem Albuainain, and by the General Manager of Bahrain National Insurance Company, Ms. Eman Salem Mujali, in the presence of a number of senior officials from both sides.
According to the MoU, Bahrain Polytechnic and bni will work together in the field of implementing collaborative projects and practical training programs for Bahrain Polytechnic students, as well as applied research projects within the field of manufacturing engineering technology, and participating in the development of industry specific case studies and projects for inclusion in problem-based curriculum.
In addition, the collaboration includes exchange of subject matter experts for the purpose of designing specialist training content and on contextualizing courses to fit Bahraini unique culture and environment. In addition, bni will provide the School of Engineering at Bahrain Polytechnic with spare parts for cars to be recycled and used to manufacture and repair other vehicles, which contributes to preserving the environment.
On this occasion, Acting CEO of Bahrain Polytechnic, Dr. Reem Albuainain said: "We are pleased to sign this memorandum of understanding with BNI, and thank their executive management for their positive response and cooperation with the Polytechnic."
She pointed out that such collaborations contributes to the institution's strategic plan, which is based on strengthening the Polytechnic's relations with all partners, as well as forging new partnerships. She also added that these collaborations are also aligned with the objectives of the Bahrain 2030 Vision.
For her part, the General Manager of bni, Ms. Eman Salem Mujali, said: "We thank Bahrain Polytechnic for giving us this opportunity to be part of this training program, and we will make sure under this agreement to provide various training opportunities for their engineering technology students at the Polytechnic. We will offer great opportunities for the students during this training program, on an academic and professional level, which will result in expanding their expertise and develop their skills in their specialized field. This initiative comes in line with the Bahrain 2030 Vision, which aims to develop an educational system that provides every citizen with educational opportunities that suit their individual needs, ambitions and capabilities, and meet the needs of Bahrain and its economy. These opportunities are of the highest possible quality standards, and are available based on ability and merit to reflect well on future generations and contribute to creating promising job opportunities."
It is important to note that the cooperation between Bahrain Polytechnic and the parent company of bni, Bahrain National Holding Company (BNH), has been going on since 2016, when the two parties signed a similar memorandum of understanding, with the aim of meeting the needs of the labor market and bridging the gap of skilled Bahraini workers specialized in several fields, including business administration and information and communications technology. In addition, the collaboration included upgrading the applied higher education and scientific research sector in order to meet the current and future labor market requirements, and achieve the objectives of the Kingdom of Bahrain.
Posted on 15 August, 2021 in News