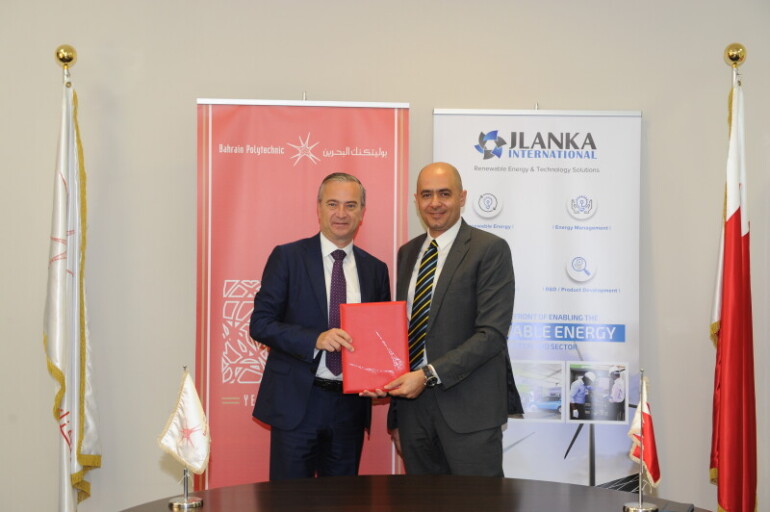 The MOU outlines efforts on knowledge transfer, education, public awareness, research & development and exchange programs on renewable energy & technology.
Bahrain's leading educational institute Bahrain polytechnic has signed an MOU with Premier solar& renewable energy technology solutions provider JLanka International to collaborate on the renewable energy sector eco-system.
JLanka International is a subsidiary of JLanka Technologies, founded in 2011 in Sri Lanka, introducing solar systems with net metering, leading the market with a 30% share, the company has evolved across the years to become a renewable energy & technology conglomerate.
JLanka has been commissioned by the Kingdom's Sustainable Energy Unit (SEU)to conduct an exclusive training programme in Bahrain to educate and certify solar PV contractors & consultants as well as training EWA personnel on grid connection standards, as well as lead consultant on a project to install solar PV systems on more than 500 government owned buildings in Bahrain including schools and hospitals.
JLanka is also involved in an operation and maintenance contract with Bahrain Petroleum Company,under the consortium formed with Green Innova, covering a5MW solar plant installed at the University of Bahrain and at various Bapco sites.
JLanka has invested in its own R&D capabilities with a dedicated 40-member team of scientists, engineers and technicians, as part of their 400 + staff, successfully developing fast EV chargers, smart meters and power optimisation devices along with its own cloud based resources and energy management platform.
Dr. Jeff Zabudsky, CEO , Bahrain Polytechnic, commented: "Collaborating with JLanka brings exciting training opportunities for our students to get hands-on experience in an important and growing sector.  As part of our strategy, we want to partner with international companies that will help foster our students to be equipped with the 21st century skills and to be work-ready graduates which meet global labour market requirements. We are delighted to have signed with JLanka, and we look forward to a fruitful collaboration.
Magdy Elnemr, Chief Business Development Officer of JLanka International, commented: "We are pleased to join hands with Bahrain Polytechnic, an ideal collaboration partner to further enable the ecosystem and prepare Bahraini work force for the job opportunities created by the sector in addition to helping build awareness and knowledge to the general public on the importance of sustainable and renewable energy sources , we also plan to create a training centre to further enhance the capabilitiesand introduce new technologies to the market players"
Posted on 5 May, 2019 in News