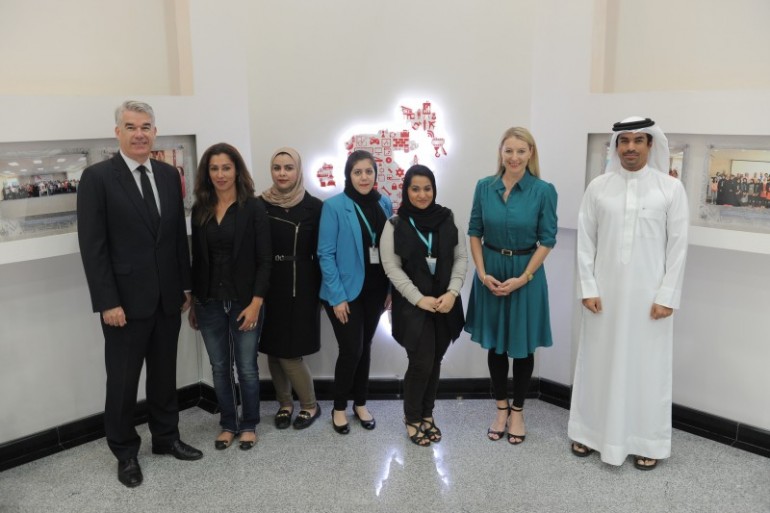 Bahrain Polytechnic hosted a project kick off meeting between Bahrain Triathlon Association (BTA) and final year business students, who will do their graduate project for the association.
Dr. Sheikh Saqer bin Salman Al Khalifa, President of Bahrain Triathlon Association explains that under the authority of Bahrain Olympic Committee, Bahrain Triathlon Association is working to advance the health and wellness agenda through the development and engagement of triathlon sport in Bahrain. With the international triathlon success of H.H. Sheikh Nasser bin Hamad Al Khalifa and the recent success of Bahrain hosting the inaugural IRONMAN triathlon, Bahrain is now on the map as a serious hub for the sport.
The project with Bahrain Polytechnic will involve students undertaking extensive research into the social and economic benefits of the recent IRONMAN triathlon event for Bahrain and looking at international examples of how Ironman events have been used to supported youth development, health and wellness and engaged citizens.
Dr. Sh. Saqer Al Khalifa stated: "The development of the triathlon sport in Bahrain is part of a boarder youth, sport and wellbeing agenda and involving students in this project work will allow closer alignment between youth and the associations supporting youth development, such as BTA".
Dr. Mohamed Al Aseeri, Acting CEO of Bahrain Polytechnic, stated: "At the Polytechnic, we focus on practical work, and this helps our students be prepared for the corporate world before they graduate.
"Working with the BTA will give our students a chance to work in the field of sports, a sector which shows great promise here at the Kingdom of Bahrain. I'd like to thank BTA for cooperating with our students." he concluded.
The project will conclude 1 June 2016.
Posted on 22 March, 2016 in News