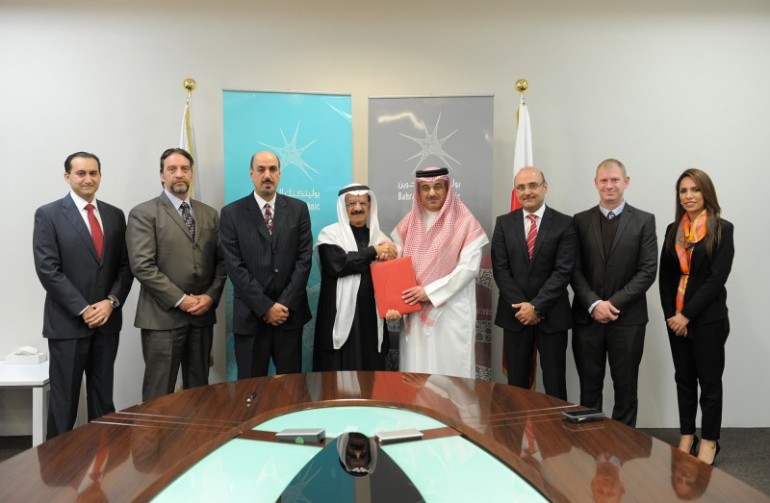 Bahrain Polytechnic signed a memorandum of understanding with Bahrain Airport Services (BAS) at the Polytechnic campus on 17th January 2016.
Fourth and final year students will have the opportunity to gain practical training and gain expertise in the field of ICT and logistics, and will have the opportunity to apply the knowledge and skills they have acquired during their studies.
Signing this agreement is a big step towards meeting the needs of the labor market and bridging the gap between Bahrainis and specialized skills, especially in the field of ICT and logistics; two fields witnessing a steady growth of demand, currently and in the future. This memorandum also contributes by combining education with practical work as part of the government action plan 2015-2018 and Bahrain 2030 Vision, which will positively affect the Polytechnic students and the aviation industry in the Kingdom in an aim to develop the national economy.
This MOU will allow the exchange of knowledge, experiences, and ideas for students to create projects. Students will also be able to work at the firm as full or part time. Additionally, the Polytechnic and BAS will collaborate together to conduct research projects in the field of aviation services and to increase Bahrainization within the sector, especially in empowering Bahraini women to work in this sector. Furthermore, short programs will be organized between both parties as refreshers to keep up to date with the latest news happening in the industry, as well as any involvement with developing and enhancing students' skills in entrepreneurship and professionalism.
On this occasion, Acting CEO, Dr. Mohamed Al Aseeri, said: "We are happy to sign this memorandum with BAS, which we consider as a strategic partner of the Polytechnic. We thank the executive management [of BAS] for their ongoing support and contribution in hiring our graduates which we are proud of. Signing such an agreement will help pave the way to meet our strategic goals 2015-2019, which reached its second year under the supervision of our Board of Trustees, headed by our Chairman H.E. Sh. Hisham bin Abdulaziz Al Khalifa. Bahrain Polytechnic aims at developing its relationships with other prestigious organizations to reach its goals, and in turn serves the Kingdom of Bahrain."
CEO of BAS, Abdulla Abokhamseen, said: "This memorandum is a blessed beginning for a strategic cooperation between Bahrain Airport Services and Bahrain Polytechnic where this cooperation will result in attracting many of Polytechnic graduates within various departments in BAS. The parties also will be involved in conducting studies related to the aviation industry and passenger services in Bahrain. In addition, both parties will co-sponsor so many events and activities that will contribute to enriching the academic and practical achievement of employees of the two parties especially in this area.
Khalid Bastaki, Senior Training Manager of BAS, stated that the students and graduates of the Polytechnic enjoy a wealth of knowledge, as they are highly committed and educated in their fields of studies.
Dr. Mohamed Al Aseeri, Acting CEO signed on behalf of Bahrain Polytechnic and Mr. Abdulla Abokhamseen, CEO signed on behalf of BAS in the presence of representatives from both parties.
Posted on 31 January, 2016 in News