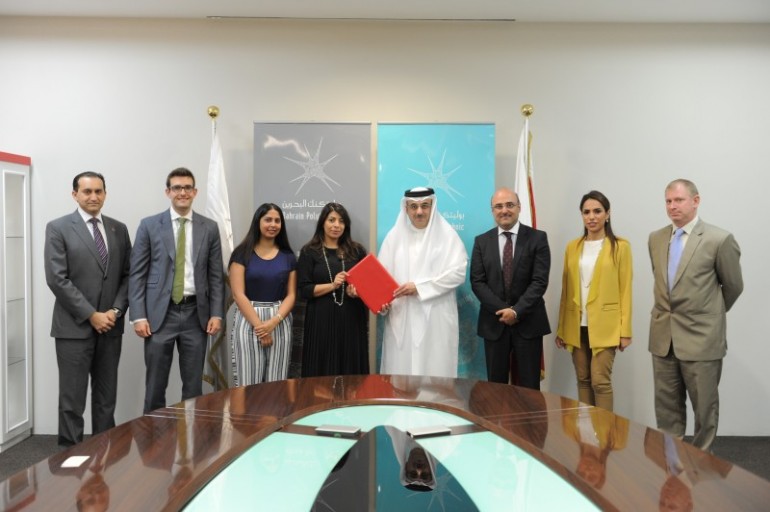 Leaping towards its mission and vision of being a world class provider of applied education, Bahrain Polytechnic signed a memorandum of understanding (MoU) with TRACCS to provide opportunities for students to undertake practical training in communications and gain the expertise of a renowned public relations company.
The signing took place on May 26th 2016 at Bahrain Polytechnic with an aim to enable students to undertake project research and hands-on practical experience, as well as enhance academic relations between Bahrain Polytechnic and TRACCS, creating opportunities for greater exchange of ideas, staff and students.
The strategic collaboration will reinforce both parties' common interest in promoting education through applied internship programs, work placement, cooperative projects, on-job training and more for students who aspire to join the public relations industry upon graduation. In addition, TRACCS will provide consultancy services for the advancement of the industry.
Acting CEO of Bahrain Polytechnic, Dr. Mohamed Al Aseeri, added that the memorandum is a big step towards meeting the needs of the labor market, as part of the government action plan 2015-2018 and Bahrain 2030 Vision which aims to bridge the gap between Bahrainis and specialized skills.
The Acting CEO stated: "We are delighted to sign this memorandum of understanding with TRACCS, who recently organized a workshop at our campus titled "Driver's Seat"; a program which aims to inform students about the importance of public relations and its current trends."
"Signing this agreement will help pave the way to meet our strategic goals 2015-2019, under the supervision of our Board of Trustees, headed by our Chairman H.E. Sh. Hisham bin Abdulaziz Al Khalifa. Bahrain Polytechnic aims at developing its relationships with other prestigious organizations to reach its goals, and in turn serves the Kingdom of Bahrain."
"We are committed towards supporting youth development and education in the Kingdom of Bahrain. This strategic partnership demonstrates our vital role and willingness to empower the future generation and help create a pool of diversified Bahraini talents who will add value to the industry," commented Shereen Bushehri, Managing Director of TRACCS Bahrain
Dr. Mohamed Al Aseeri signed on behalf of Bahrain Polytechnic and Shereen Bushehri signed on behalf of TRACCS in the presence of representatives from both parties.
Posted on 27 May, 2016 in News